Civil Construction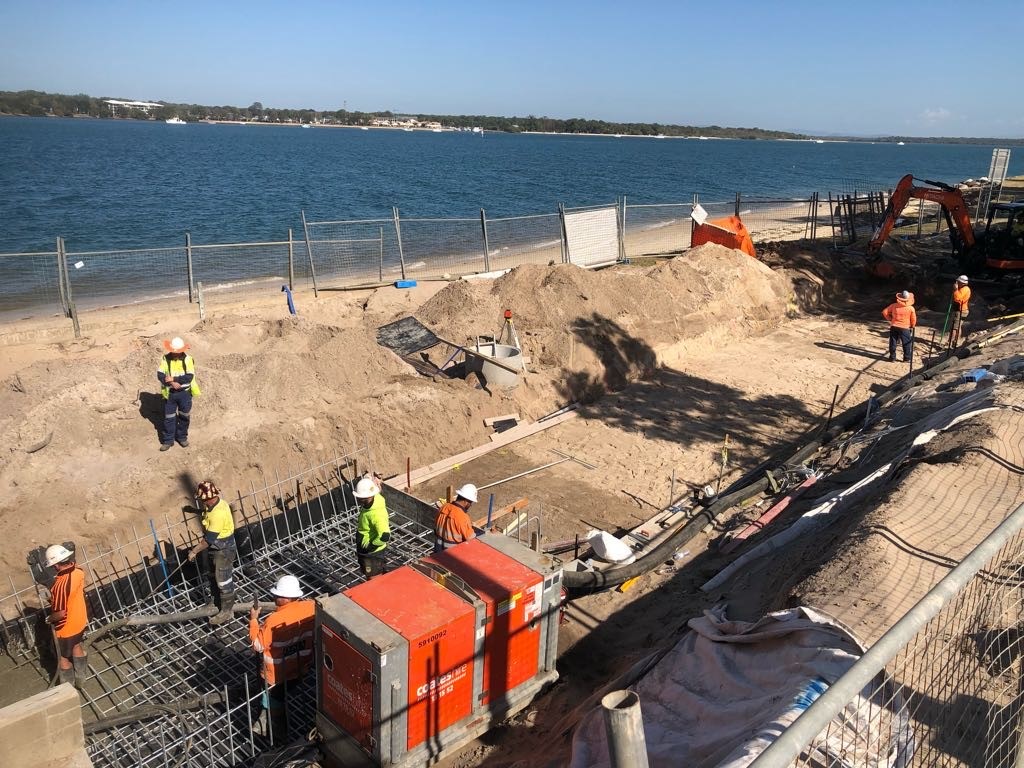 PCA work all over Australia to provide a diverse range of design and construct civil engineering services from site clearing, earth retention, through to all elements of ground engineering. PCA find our strengths in the quality of our people and our very genuine pursuit of positive outcomes and relationships with clients, partners and the communities in which we operate. Our clients success is linked to our ability to consistently deliver on our commitment.  
Slope Stabilisation
PCA's design and construction team provide a wide range of slope stabilisation solutions for both government and private sector clients. These include, but are not limited to;
Micropile "A Frame" structures (insert web link to Noosa Case study and video)
Concrete Segmental Retaining Walls
Soil Nails
Rock Bolts
Temporary and permanent shoring walls
Contiguous bored pile and CFA walls
Mass gravity high pressure grouted structures
The ability to work with designers, civil contractors and geotechnical engineers on slope stabilisation solutions either pre-tender or as part of an alternative solution during the tender process has resulted in significant cost savings for PCA's clients. A recent example is the Gatton-Clifton Road remediation project near Foresdale in Queensland. Originally designed as a large diameter bored pile wall, PCA was able to work with designers and Queensland Transport & Main Roads (TMR) to provide a Micropile A Frame solution as an alternative to the original design. The Gatton-Clifton Road project recently received an innovation award from TMR at their annual Engineering Technology Forum. The innovation award is provided every two years and is for innovation across the entire transport infrastructure network for a 24 month period. Incorporating state of the art micropile design and installation techniques along with a concrete segmental reinforced soil structure, PCA's design provided $1 million in direct savings and shaved seven weeks off the construction time for the project. Another similar project at Spring Creek Road in South East Queensland has also recently won an award at the Queensland Civil Contractors Federation and there are many other slope stabilisation projects where PCA's involvement has provided valuable input which has resulted in financial and community benefits.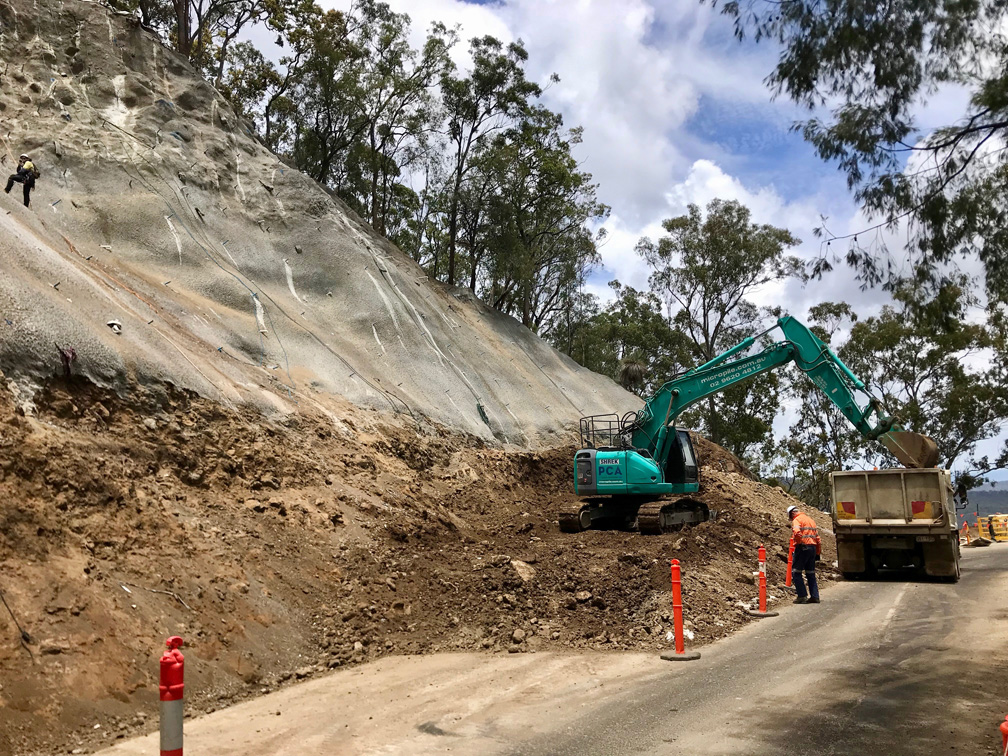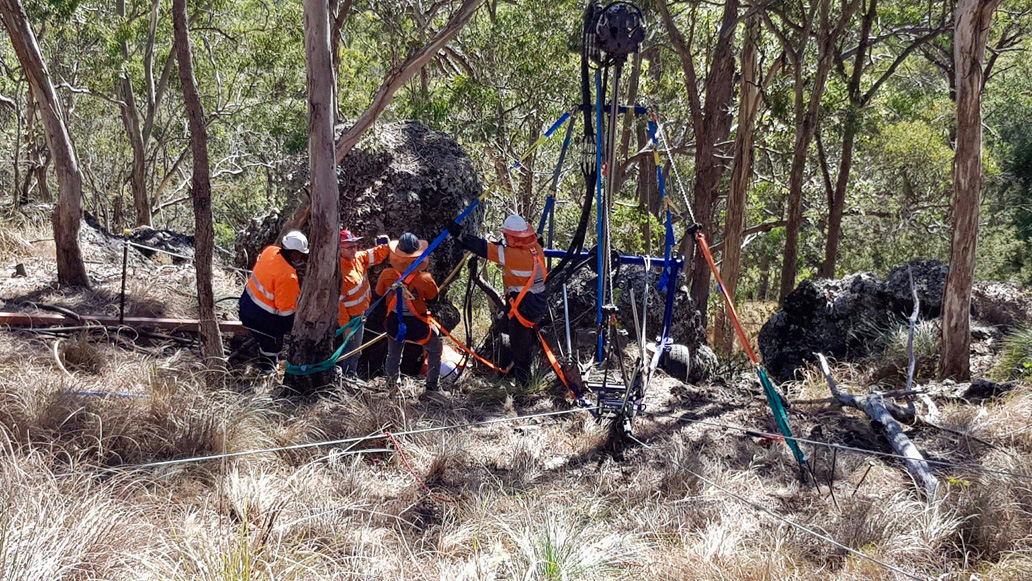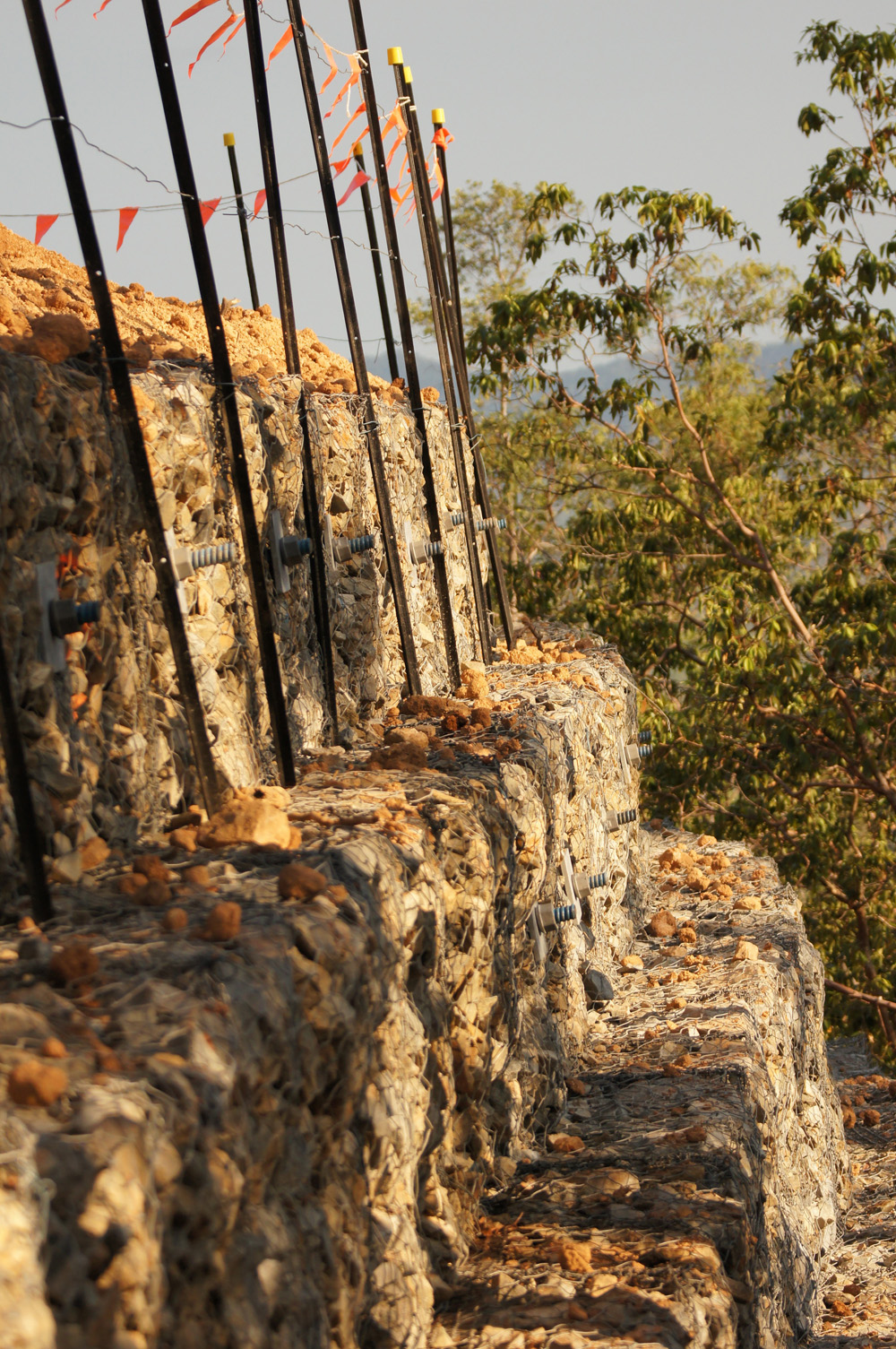 Retaining Walls
Segmental Concrete Reinforced Soil Retaining Walls
(Mechanically Anchored Walls)


Reinforced soil structures consisting of segmental concrete blocks and earth anchors are a cost effective solution on road slip repairs or on sites where space is at a premium and the ability to excavate is restricted.
Consisting of a concrete segmental retaining wall (SRW) block connected directly to a reinforcing element such as a soil nail, rock bolt or earth anchor. This process allows for temporary support for the slope to be provided by post tensioning steel plates on the reinforcing element or by applying shotcrete during excavation prior to construction of the block wall facing.
Mechanically anchored walls are an excellent choice for road widening projects with the segmental block facing element having a near vertical alignment. The light weight block units are installed  by hand which negates the requirement for expensive cranes on site and reduces installation time particularly on limited access projects.
A major advantage of the system is in providing temporary support for roads or other critical structures once the earth anchors are installed. A recent project at Wilsons Creek Road in Northern New South Wales enabled the local council to resume waste and school bus services along a section of road that was under load restrictions from a road slip. After installation and post tensioning of the earth anchors, the load limit on the road was increased from 10 tonne to 15 tonnes three weeks earlier than planned and prior to completion of the segmental block
wall facing.
Segmental Concrete Reinforced Soil Retaining Walls
(Geogrid Reinforced Soil Walls)
Reinforced soil structures consisting of segmental concrete blocks and geogrid reinforcement (SRW's) are an economical choice for a wide range of earth retention applications. Consisting of a concrete block facing element connected to layers of geogrid within a matrix of engineered fill, the combination of concrete blocks, soil and geogrid work together as a single mass gravity structure to routinely solve earth retention problems in excess of 15m in height.
PCA's design and construction team have 20 years of experience in both designing and building segmental retaining walls for both private and government clients including both RMS in New South Wales and TMR in Queensland. PCA's design combination of a concrete segmental retaining wall as an infill for a 25m long slip in conjunction with a micropiled A Frame structure on Gatton-Clifton Road won the 2014 Innovation Award from Queensland Transport and Main Roads at their annual Engineering Technology Forum. This prestigious award is only given every two years and recognises innovation in engineering, systems and construction across the entire TMR road infrastructure.
Earth Drains Finished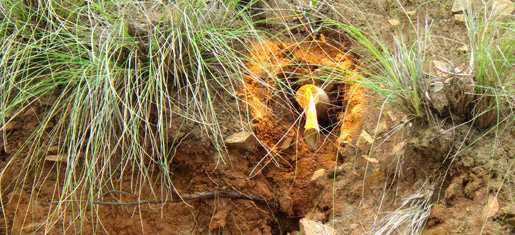 Land slides and slope failures often occur as a result of water saturation, due to heavy rainfall and insufficient drainage, which leads to the softening of clay soils within slopes and increases hydraulic forces behind earth retaining structures as can be seen in the above picture. The introduction of earth drains can help prevent shallow or deep-seated slope failures from occurring. If a slope has an abundance of rock and cobbles drains are typically installed in a conventional method by drilling or coring a hole in rock and installing a site appropriate drainage system. There are also other proprietary systems that can be driven into a slope if the geotechnical conditions are suitable, such as clay or soil. One of the newer earth drainage systems available is capable of delivering considerably more versatility than traditional slope drainage solutions. It is able to achieve this by the installation of a sacrificial earth anchor that is installed to the designed depth via a rotary percussion drill. Once the earth anchor is installed a patented grout is injected to create a porous grout body that is highly permeable to water and air. The system provides a new level of efficiency to reach deep-seated failures and provide a drainage solution that remains effective for the entire length of the drain in varying strata due to the filter resistance and filter stability.
Rock Bolts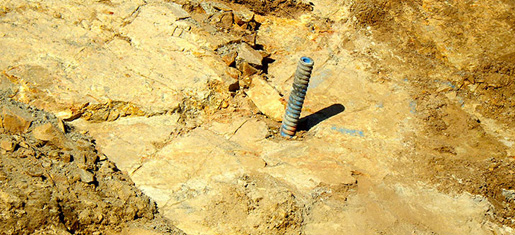 Rock bolts are tensioned once the anchorage is attained to actively set up a compressive force into the surrounding rock. This axial force increases the shear capacity and is generated by pre-tensioning of the bolt. The system requires a bond length to enable the bolt to be tensioned. In essence, rock bolts start to support the rock as soon as they are tensioned and the rock does not have time to start to move before the rock bolt becomes effective. Rock bolts are commonly used throughout the civil engineering mining and tunneling industries. They are used to improve the stability and load bearing characteristics of a rock mass. In the tunneling industry, rock bolts are used for horizontal fore-poling, slope stabilisation at the tunnel portal and for anchoring large section tunnels with high side walls.
Rock Dowels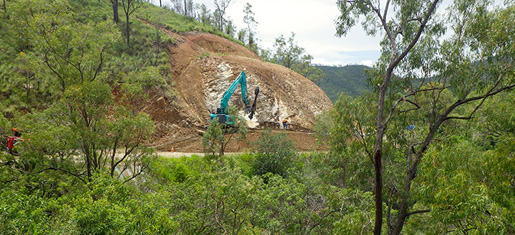 Rock dowels are very similar to rock bolts however they are passive reinforcing elements which need some ground displacement to activate the dowel. In installation of rock dowels, a hole is drilled and un-tensioned steel bars are inserted into the hole. When displacements along joints occur, rock dowels are subject to both shear and tensile stresses. The level and ratio of shear and tensile stress depends on the properties of the surrounding ground, the grout material filling the annular gap between the dowel and the ground and the strength and ductility parameters of the rock dowel itself.
Rock Drilling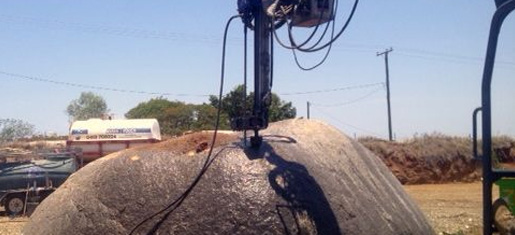 Rock drilling is a key component of PCA's diverse skill set and capability, it is this diversity that gives us the ability to provide solutions and key benefits for a wide spectrum of specialist rock drilling situations and geographical challenges. PCA has a significant fleet of equipment that is meticulously maintained inclusive of preventative maintenance. Our specialised equipment means we can access environmentally sensitive locations with the smallest possible footprint inclusive of aerial or rope access. It is the union of this state of the art rock drilling technology and our valuable team that really sets us apart. PCA's team has extensive operational experience and a very genuine safety culture, PCA have a proven track record of working remotely on challenging and lengthy contracts while simultaneously building strong and professional client relationships.
Rock Coring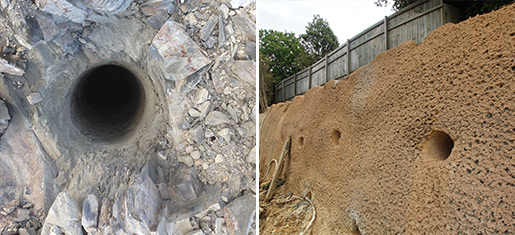 PCA's has a well proven record for drilling and coring rock, our specialised team combined with our diverse fleet of drilling and coring rigs and equipment offer a wide range of solutions in various applications to meet a variety of project requirements. Our team of professionals work to understand your projects objectives and the ground and site conditions so we deliver the best solution for the job.
Rock or concrete can be cored vertically or in a myriad of angled installation techniques. PCA's performance in this area has ranged from tightly congested inner city locations to remote locations in severe weather environments with complex logistical challenges.
It is via a detailed understanding of the client's requirements that PCA develops a specific approach for the best possible way to accomplish the client's intent in a safe manner.
Shotcrete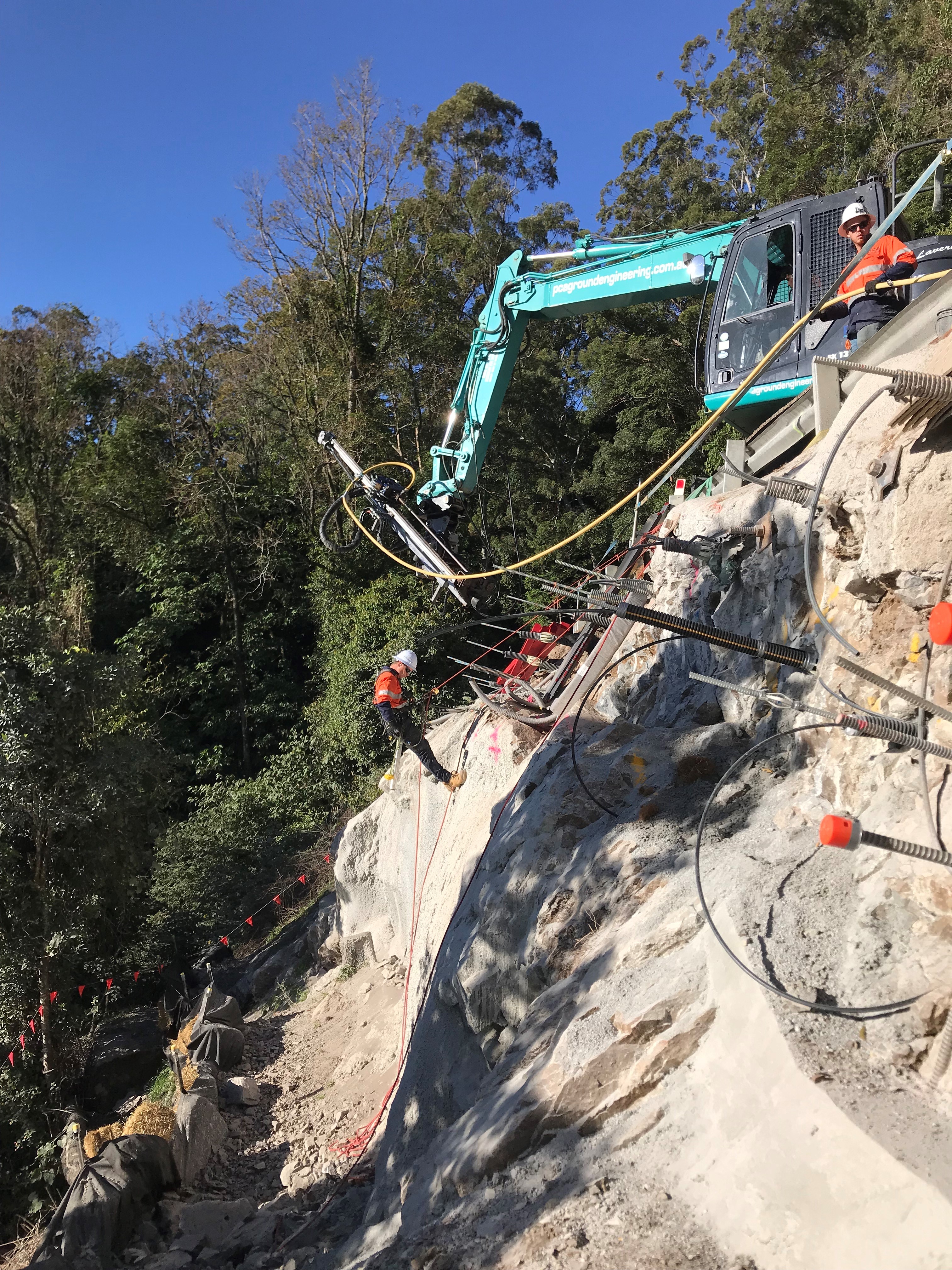 Today, mining companies, contractors and engineers have come to rely on pneumatically applied concrete (known worldwide as shotcrete). It's a key component of many civil, mining and high rise basement projects. When the ingredients of a highly skilled team supported by the right equipment, additives and technical support are blended together it creates a solid foundation and that is critical in supporting the success of any project. That's why it is so vital to work with a knowledgeable, experienced shotcrete partner such as PCA.
The PCA team have performed shotcreting on infrastructure and new construction in numerous locations from inner city basements, dams and remote infrastructure, such as the snowy mountain river scheme. PCA's clear advantage over competitors is that we package shotcrete with all associated civil requirements such as earth anchors, piling, a complete ground engineering solutions linked to industry and engineering expertise.
PCA are able to offer a wide range of services from technical support, testing, design, application, operations management and more.  PCA and its highly skilled team of employees and associates has a long history of working in severe conditions and overcoming the most complex of logistical issues.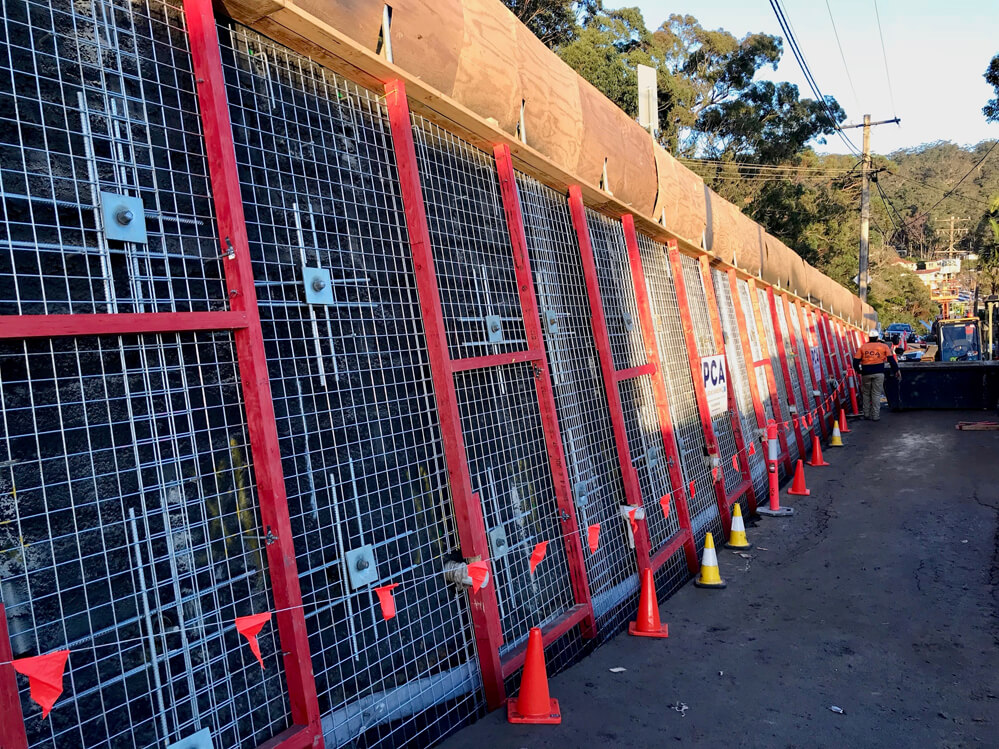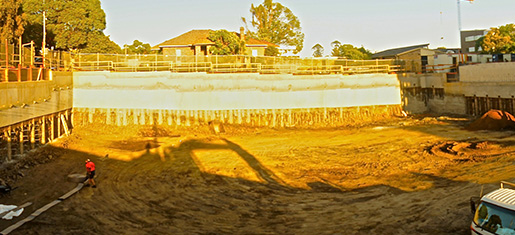 Concrete and Steel Construction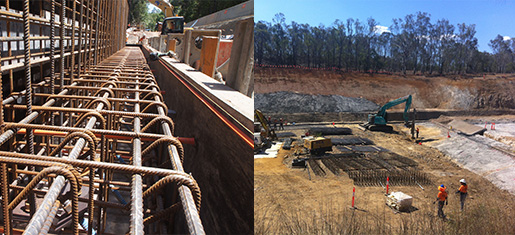 PCA has a strong skill set and capability in delivering concreting and steel packages linked typically to civil structures that are difficult and remote:
Complex Concrete Works
Remote Concrete Works
Concrete Footings, Pedestals, Slabs and Bunds
 Ring Beams and Concrete Tanks
Suspended Concrete Slabs
Formwork
Reinforcing Steel Fixing
PCA Ground Engineering has the staff and experience to complete all facets of concrete and reinforcing steel construction. We will supply, form, as well as place and finish all elements necessary to complete complex concrete projects; whether it's foundations, culverts, bridge abutments, slabs, or hardscapes PCA has experience to support your project.
PCA's industry leading safety approach flows through to a safety culture on site that is rarely experienced in the performance of steel fixing and concreting works. PCA's work safe culture is of the highest standard, our team exceeds all industry codes and standards of compliance which are independently audited.